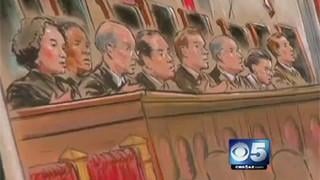 PHOENIX (CBS5) -
Reading the national headlines, watching cable news or listening to politicians, it's nearly impossible to figure out what the Supreme Court ruling on Arizona's immigration law really means. But a Valley constitutional law expert said the bottom line is simple: Arizona lost.
"The people challenging 1070 won and the state lost," said Paul Bender, a former principal deputy solicitor general, who argued more than 20 cases in front of the Supreme Court.
Bender is now a law professor at ASU.
He and other legal scholars contacted by CBS 5 News said the Supreme Court ruling set a line in the sand that had never been established. The court ruled that states did not have the authority to establish their own immigration policies or enforcement schemes.
"It is a ringing endorsement of the federal government's exclusive power over immigration," Bender said.
Copyright 2012 CBS 5 (Meredith Corporation). All rights reserved.