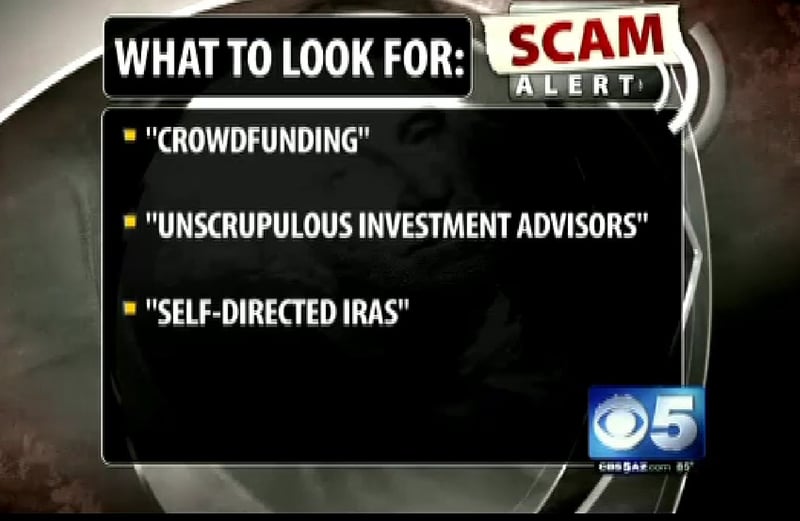 PHOENIX (CBS5) -
An organization made up of state securities regulators is warning consumers about four new scams that could affect people's personal wealth.
The North American Securities Administrators Association, or NASAA included the new threats in its annual list, which you can find here.
The emerging threats include:
Crowd funding and internet offers
Inappropriate advice from financial advisors
Self-directed IRAs
Investment-for-Visa schemes
Crowd funding is a way for companies to attract investors over the internet. The strategy was made possible by a law enacted by Congress this year. But consumer advocates and organizations like the NASAA believe it opens the floodgates to con artists by allowing them to contact victims via the internet.
Inappropriate advice from investment advisors are nothing new, as the Bernie Madoff case illustrates. But in 2011, state securities regulators doubled the number of actions they took against investment advisors.
Self-directed IRAs are meant to allow individual investors to directly choose the stocks and finds they want to buy with their own retirement savings. But the NASAA and other consumer advocacy groups have identified several cases where IRA custodians have directed investments into fraudulent and worthless Ponzi schemes.
EB-5 Investment-for-Visa schemes take advantage of something called the "Immigrant Investor Program." It grants visas to foreign citizens who invest a minimum of $500,000 in a new business. It's meant to help create jobs here, but consumer advocates warn that fraudulent promoters may try to make the new businesses seem like safe investments, by incorrectly connecting them to a federal jobs program.
Copyright 2012 CBS 5 (Meredith Corporation). All rights reserved.