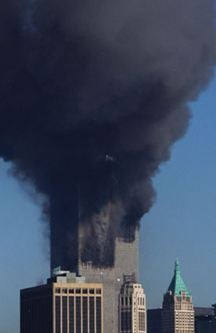 Few can forget the piercing images from Sept. 11, 2001, but some see a double meaning in the photo.
The image, along with those questions, have been floating around social media for years, but now science is taking a hard look at what our eyes are seeing.
"In this particular case it happened to look like a face because that's one of the possible ways smoke can look," said Dr. Stephen Macknik with the Barrow Neurological Institute.
"When you have smoke emanating from fire it often takes up this conical shape in which vertical and horizontal lines can be superimposed which are the eyes and nose and mouth of the 'Satan' in the smoke of 9/11," said Dr. Susana Martinez-Conde with the Barrow Neurological Institute.
"But the reason it looks like a face to us is because our brain is tuned to actually see faces in things. And it's trying to find faces all the time," Macknik said.
Scientists said it's something that happens even more in an emotionally significant moment, like 9/11.
The photo is real, but the face, no matter how you perceive it, is all in our heads.
Copyright 2012 CBS 5 (Meredith Corporation). All rights reserved.