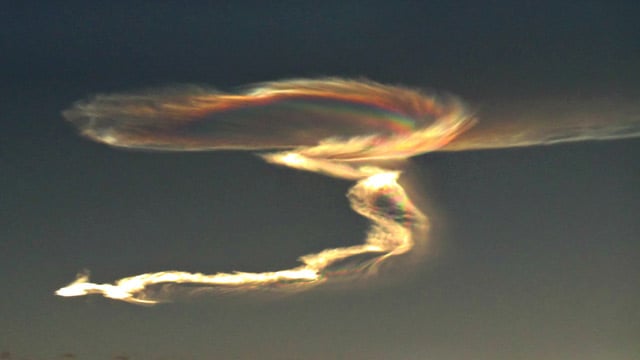 (Photo courtesy Gary Wojton of Scottsdale)
PHOENIX (CBS5) -
The contrail from a missile launch near Gallup, NM, lit up the southeastern sky Thursday morning.
Dan O'Boyle with the Missile Defense Agency at the White Sands range said the contrail was left from a test interceptor missile launch near Fort Wingate, NM.
The mysterious plume was illuminated by the rising sun and noticed just before 5:30 a.m.
Cammie Montoya, a spokeswoman for the White Sands Missile Range in New Mexico, said the U.S. Army launched the missile toward White Sands.
Another missile intercepted it over the White Sands Proving Grounds and that everything went as planned. She said the sunlight really accentuated the contrail.
It was the 15th such test since the mid-1990s, Montoya said.
Inquisitive CBS 5 viewers and cbs5az.com users from Casa Grande to Kingman quickly turned into photojournalists and sent photos of the sky-high event.
Copyright 2012 CBS 5 (Meredith Corporation). All rights reserved.