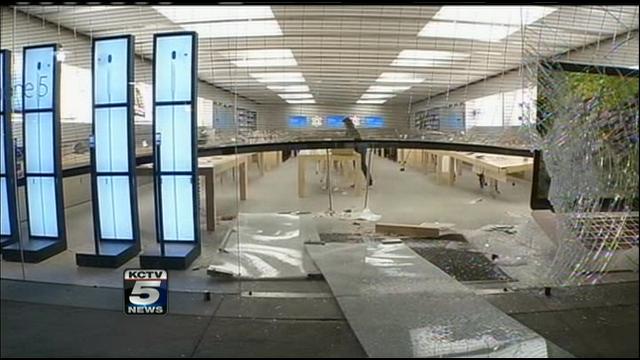 LEAWOOD, KS (KCTV) -
Police are searching for thieves who drove a stolen car into the Leawood Apple store and swiped pricey electronics.

The alarm sounded about 2:40 a.m. at the Apple Store at 4529 W. 119th St. Police got to the scene within two minutes.
Once they arrived, officers discovered a green Dodge Intrepid wedged between the glass store front and a large metal gate installed to prevent this type of crime.
But the gate was bent enough to allow the thieves access. The vehicle's steering column had been broken into.
Officers are reviewing surveillance video.
A similar smash and grab happened at the store in 2010.
Police are not saying the value of the electronics stolen or what Apple products were taken. They believe much planning went into the heist and that the bandits plan to sell the items on third-party sites like eBay and Craigslist.

If you have any information, call the TIPS Hotline at 816-474-TIPS or Leawood police at 913-642-5555 extension 211.

Copyright2012 KCTV (Meredith Corp.) All rights reserved.