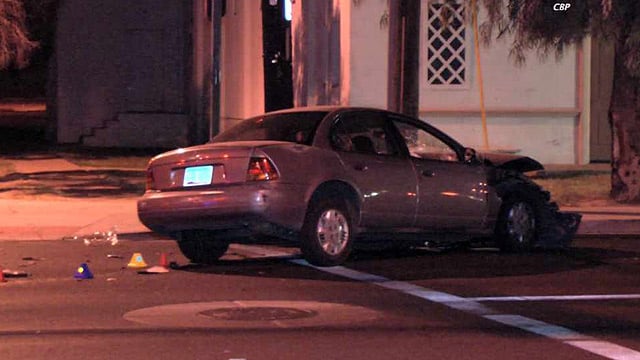 (Source: Chad Black, for CBS 5 News) Police said a pregnant woman driving this Saturn collided with a minivan just after midnight and lost her unborn baby.
A woman who was eight months pregnant lost her unborn baby when her vehicle was struck by another early Tuesday morning.
Police said the woman was driving a silver Saturn on Southern Avenue when it collided with a Honda minivan making a left-hand turn near Seventh Street just after midnight.
Police said three vehicles were involved, including a Dodge truck that also collided with the Saturn.
Six people, including two children in the van, were hurt. All were expected to survive except the mother's unborn child.
Detectives said no one was speeding or was impaired, but the pregnant woman was not wearing a seat belt and she and a passenger were taken to a nearby hospital.
The driver of the minivan, who was wearing a seat belt, was also taken to a hospital, but two 10-year-old passengers in the van were not injured. The driver of the pickup was wearing a seat belt and not hurt.
Police said the woman driving the minivan accelerated after the initial impact and came to rest in a field about 100 yards away from the initial crash.
Police said they would continue the investigation.
Copyright 2012 CBS 5 (Meredith Corporation). All rights reserved.