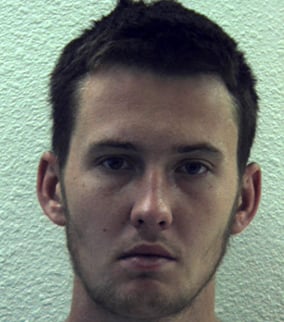 Preston Tisthammer (Source: Prescott Valley Police)
PRESCOTT VALLEY, AZ (CBS5) -
A CVS pharmacist struggled with a would-be robber armed with a stolen handgun but was unable to keep the man from fleeing empty-handed, Prescott Valley police said.
Prescott Valley police officers responded to the CVS drug store at Windsong and State Route 69 in the Town of Prescott Valley Friday morning.
Patrol officers were able to quickly apprehend the suspect, identified as 23-year-old Preston Tisthammer of Prescott Valley. Investigators said they learned that Tisthammer stole the handgun from a vehicle the day before.
According to police, Tisthammer entered the store, demanded prescription drugs and pulled out the gun. The pharmacist refused to hand over the drugs and as Tisthammer fled the store the 51-year-old pharmacist from Chandler wrestled with him, officers said.
Tisthammer reportedly dropped the gun and fled on foot before being caught by officers.
Tisthammer was booked into the Yavapai County Jail on charges of armed robbery, burglary and possession of stolen property.
Copyright 2012 CBS 5 (Meredith Corporation). All rights reserved.