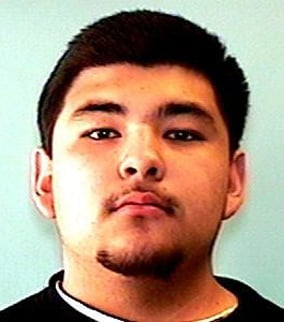 (Source: Phoenix Police Department) Samuel Valenzuela
PHOENIX (CBS5) -
Police have arrested a suspect accused of killing another man in Phoenix in November 2012.
Phoenix police said Samuel Valenzuela, 18, was stopped in a vehicle on Thursday in the 4900 block of West Berkley Road and questioned about the murder. Police said his alibis didn't match and he was taken into custody.
On Nov. 25, 2012, officers responded to a house near 71st Avenue and Thomas about 7:30 p.m., and found 20-year-old George Nunez with a gunshot wound.
Nunez was transported to a local hospital where he died, according to Sgt. Steve Martos.
According to the police report, Valenzuela used a 9 mm pistol in the murder, armed robbery and aggravated assault and two of his brothers acted in the burglary.
The brothers, Richard Valenzuela and Peter Valenzuela are also facing charges.
Stay with cbs5az.com for updates on this developing story.
Copyright 2012 CBS 5 (Meredith Corporation). All rights reserved.