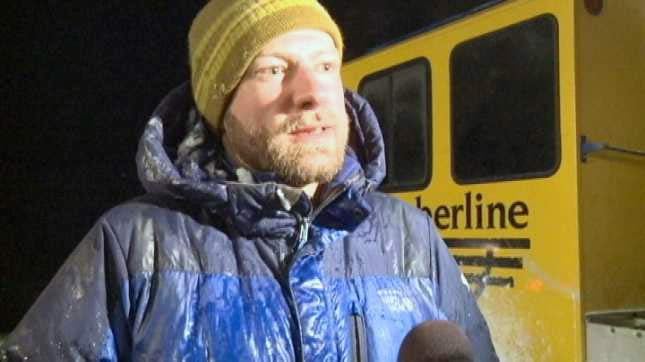 GOVERNMENT CAMP, OR (KPTV) -
A 30-year-old climber trapped by bad weather high up on Mount Hood took time to post a couple messages to friends on Facebook before search teams rescued him hours later.

Clackamas County deputies said Jeff Kish set out to the summit of the mountain from Timberline Lodge at 2:30 a.m. Wednesday. He registered his climb at the lodge and estimated his time of return to be 3 p.m.

Based on conversations with him on his cell phone and GPS coordinates from the phone, rescuers believed him to be above the 10,000-foot level, with weather conditions deteriorating fast Wednesday night.

While he was stranded, Kish posted to his Facebook page, saying "you're gonna hear about it on the news anyway, may as well spill it myself."

"Got stuck in a storm on the summit of mt. Hood. Stuck on cliffs over 10,000' in a white out. Called 911 after several hours of trying to self rescue," he wrote. "Search and rescue has been notified. Wish me luck!"
Kish also posted a photo on Facebook of his GPS coordinates.
Dispatchers said Kish's first call for help came at around 1:45 p.m. Wednesday, when he reported being trapped on the mountain.

Portland Mountain Rescue sent a 13-man team to the Palmer ski lift at the 6,900-foot level. They traveled there by snowcat and ascended on foot to the bottom of Crater Rock. That trip took longer than two hours, deputies said. When the crew arrived in that area, they could not locate Kish, and his cell phone battery died around 9 p.m.

Kish had been in consistent contact with deputies from his cell phone, as well as family and friends.

"My phone actually died while I was up there," It's a good thing these guys were able to find me when they did," Kish said. "When it gets charged up, I'll call to let everyone know I'm OK."

Search teams found Kish at about 11:45 p.m. He was near a second set of coordinates obtained from his phone.

"I don't know if I even would have lasted the night if they hadn't found me," Kish said.

Copyright 2012 KPTV (Meredith Corporation). All rights reserved.