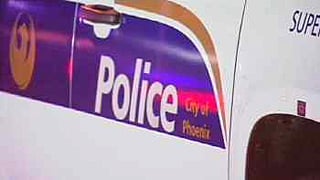 © CBS 5
PHOENIX (CBS5) -
Phoenix police are investigating the death of a 43-year-old man who was stabbed by his wife as she was allegedly defending her son.
Phoenix police said the 49-year-old suspect called 911 about 7:30 p.m. Thursday and told police she stabbed her husband at their home on West Earl Drive.
When police arrived, the victim was taken to the hospital where he died.
Police said the victim and the suspect were recently married, and the suspect's 28-year-old son from a previous relationship was visiting when the son and the victim got in a fight. The suspect then stabbed her husband.
The son has a diminished mental capacity.
The suspect has been questioned and released while authorities investigate if the stabbing was self-defense.
The victim and suspect's identities are not being released at this time.
Copyright 2012 CBS 5 (Meredith Corporation). All rights reserved.