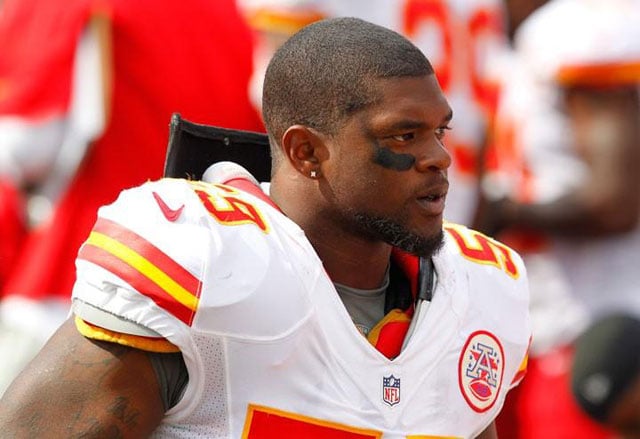 KANSAS CITY, MO (KCTV) -
Kansas City Chiefs linebacker Jovan Belcher saw officers approaching him and moved behind a vehicle before shooting himself once in the head, according to a police report released Monday.
In the report, police were dispatched at 8:01 a.m. Saturday to the Chiefs practice facility located at 1 Arrowhead Drive on an outside disturbance involving an armed person.
When officers arrived, they found several people outside the entrance to the facility in the parking lot. As they approached the suspect, a man later identified as Belcher, he moved to an area behind a vehicle. From that position, Belcher shot himself one time in the head, police said.
He was transported to an area hospital where he later died.
Nine minutes prior to his suicide, officers were dispatched to the 5400 block of Crysler Avenue on a reported shooting.
When police arrived, the entered the home Belcher shared with his girlfriend, Kasandra Perkins, and found Perkins unresponsive on the floor of the master bedroom suffering from apparent gunshot wounds, according to a second police report released Monday.
Perkins was transported to an area hospital where she was pronounced dead.
Copyright 2012 KCTV(Meredith Corp.) All rights reserved.