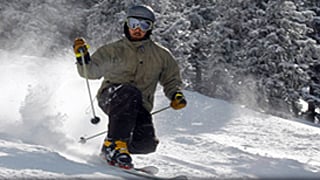 FLAGSTAFF, AZ (AP) -
A couple who attended a protest against snowmaking has been banned from an Arizona ski resort for now.
A bench trial for Dawn Dyer and James Anders is expected to be set following a Dec. 27 status conference in federal court in Flagstaff.

The two deny breaking any laws when they showed up for a protest in September at the Coconino National Forest Service office.

The two were with Klee Benally when he delivered letters asking to halt snowmaking at the Arizona Snowbowl. Authorities say the three, along with Evan Hawbaker, interfered with the work of Forest Service employees by refusing to leave the office lobby. Each faces misdemeanor charges.

Benally successfully argued in court Tuesday that banning him from the ski resort on a mountain he considers sacred would violate his religious rights as a Navajo.
Copyright 2012 The Associated Press. All rights reserved.