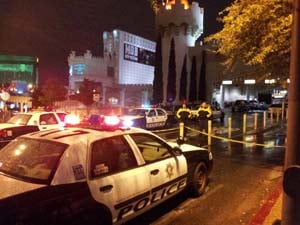 Metro police at the Excalibur Friday night. (Arron Healy/FOX5)
LAS VEGAS (FOX5) -
Metro police have confirmed that a man and a woman are dead in a shooting Friday night at the Excalibur hotel and casino.
Police said the male reportedly came into the lobby of the hotel, shot the female victim multiple times and then shot himself.
The female victim was taken to University Medical Center where she died. The man died of a self-inflicted gunshot wound.
The investigation indicated there may have been a previous dating relationship between the two individuals.
"We were saddened to learn that a member of the VEGAS.com family was the victim of tonight's tragic and senseless killing at the Excalibur Hotel & Casino Las Vegas," said VEGAS.com Chief Operating Officer Bryan Allison. "Our thoughts and prayers are with her family and friends."
The shooting took place near the registration area of the hotel. That area was cordoned off, but the hotel remained open.
A FOX5 staff member was at the Excalibur when the incident occurred and reported having heard gunshots, a report that was corroborated by numerous witnesses via Twitter.
The circumstances surrounding the shooting are still being investigated.
Copyright 2012 KVVU (KVVU Broadcasting Corporation). All rights reserved.