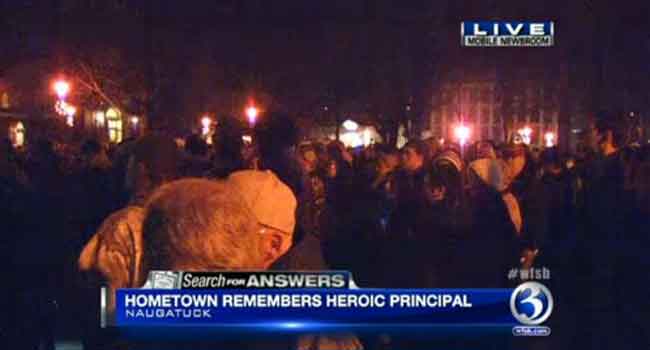 NAUGATUCK, CT (WFSB) -
A vigil was held Tuesday night in Naugatuck, which is the hometown of Sandy Hook Elementary School Principal Dawn Hochsprung, who was gunned down trying to stop the killer from carrying out his sinister plan.
Adam Lanza, 20, shot and killed his mother as she slept in her bed and then went to the school Friday morning where he proceeded to shoot and kill 20 children, between the ages of 6 and 7, and six adults before shooting himself in the head.
One of Lanza's victims was Hochsprung.

Her family attended the vigil where they lit a candle and led a moment of silence.

Many residents in Naugatuck have a connection to Hochsprung and her family. People gathered on the town green for the vigil.
Church Street was blocked off during the vigil and police performed crowd control.
Several speakers talked during the vigil. There was a lighting of candles and a song called 26 names was performed.
At the front of the gazebo, there was an angel that was created using letters from students at Naugautuck High School as a way of reaching out to the 26 victims' families.
Copyright 2012 WFSB (Meredith Corporation). All rights reserved.