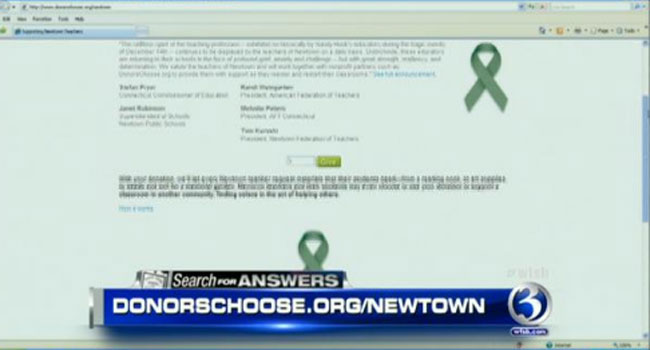 NEWTOWN, CT (WFSB) -
A website has been created for the teachers and students in Newtown.
The site, DonorsChoose.org/Newtown, will give Newtown teachers funding to design classroom specific projects and buy materials.
The website founder says teachers know best what their students need and this website provides them with the funding they need to better educate and help their students heal.
"We believe that great teachers know best what their students need, and this is surely the case in Newtown," said DonorsChoose.org/Newtown founder Charles Best in a statement Wednesday. "We're honored and humbled to provide a platform for supporting these educators."
On Dec. 14, Adam Lanza shot and killed his mother at their home, then went to Sandy Hook Elementary School and killed 26 children and adults.
For more information, visit the following link.

Copyright 2012 WFSB (Meredith Corporation). All rights reserved.