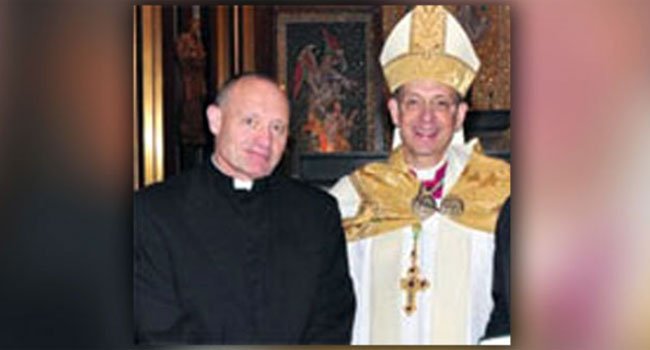 © Monsignor Kevin Wallin, who is seen here on the left next to former Bridgeport Bishop William Lori, was arrested by federal agents at his Waterbury home earlier this month.
WATERBURY, CT (WFSB) -
According to court documents, a former pastor of a church in Bridgeport, who is facing federal drug charges, was trying to purchase an adult entertainment store before he was arrested.
Monsignor Kevin Wallin, 61, was arrested at his home in Waterbury earlier this month after receiving large amounts of methamphetamines from the West Coast.

Before his arrest, Wallin was a pastor at St. Augustine's for almost 10 years until 2011 when he left the church for health-related issues.
According to federal authorities, Wallin made six purchases of methamphetamines from California between September 2012 and January 2013. The meth was shipped to Connecticut where it could be sold.
Wallin was also trying to buy an adult video store in North Haven called the Land of Oz and was going to possibly use it to launder money through.
Since leaving St. Augustine's, Wallin was not reassigned and his priestly duties were suspended in May of 2012.
"The Diocese stands ready to help as it has throughout the past two years," according to statement from the Bridgeport Diocese Thursday on their website. "We ask for prayers for Msgr. Wallin during the difficult days ahead for him."
Copyright 2013 WFSB (Meredith Corporation). All rights reserved.