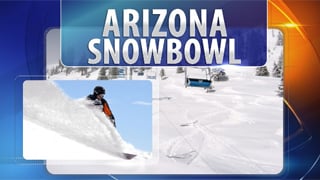 © CBS 5
FLAGSTAFF, AZ (CBS5) -
Letters from Snowbowl patrons about the potential of serious health risks due to the reclaimed waste water snow prompted the Arizona Department of Environmental Quality to inspect the ski resort last month.
Letters sent to the AZDEQ claimed Arizona Snowbowl did not have the proper signs telling folks the snow was made from treated waste water. A letter also claimed that there was yellow snow coming from the machines. It also claimed skiers were seen tracking the waste water snow in the lodge and eating areas.
Within two days, inspectors from the AZDEQ were investigating. According to their report, they didn't find much.
The inspection revealed two violations. The report said there was a sign missing near one of the snow-making machines. It also stated that there was some piping that was the wrong color.
Arizona Snowbowl officials say both of those problems have been fixed.
"Arizona Snowbowl has full intention of complying with all regulations. As soon as we received additional input from ADEQ, we immediately added the requested signage," said Snowbowl General Manager JR Murray.
Copyright 2013 CBS 5 (KPHO Broadcasting Corporation). All rights reserved.