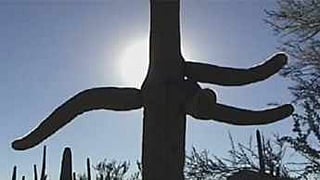 © CBS 5
PHOENIX (CBS5) -
A Scottsdale man has been sentenced to pay restitution of $32,000 and spend eight months of weekends in jail for stealing cacti from federal land in 2010.
Kenneth Brian Cobb, 46, was also sentenced Monday in U.S. District Court in Phoenix to five years of probation.
Cobb took eight saguaro from federal land near Wickenburg and sold them for about $2,000 each, prosecutors said. On Jan. 21, 2011, Cobb exported two saguaro cacti from the U.S. to Austria without a valid export permit, prosecutors added.
"The saguaro cactus is a symbol of the Sonoran desert and Arizona Saguaros are protected by state and federal law to avoid their becoming threatened by the very actions of people like the defendant," U.S. Attorney John Leonardo said. "The defendant stole these precious resources from federal lands and sold them for profit.
Cobb pleaded guilty last September to theft of government property and a violation of the Endangered Species Act.
The investigation in this case was conducted by the U.S. Department of the Interior, Bureau of Land Management and Fish and Wildlife Service.
Copyright 2013 CBS 5 (KPHO Broadcasting Corporation). All rights reserved.