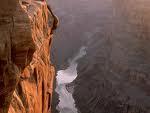 GRAND CANYON NATIONAL PARK, AZ (AP) -
Anyone wanting to guide a noncommercial river trip through the Grand Canyon can start applying Friday.
The National Park Service says 450 permits will be available for 12- to 25-day trips on the Colorado River. The permits will be for specific launch dates in 2014.
Additional draws will be held for trips that are canceled or left over after the Feb. 26 application deadline.
The main applicant must be 18 years or older, and at least one person on the trip must be experienced in whitewater rafting.
Those who are drawn can participate in only one commercial or private river trip per year.
The lottery system replaced a waiting list in 2006.
Copyright 2013 Associated Press. All rights reserved.