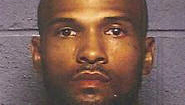 HARTFORD, CT (WFSB) -
Police in Hartford made an arrest in an investigation on a domestic violence complaint connected to an on-going investigation.
Police say they arrested 28-year-old Joseph Murphy of 94 Vine Street.
"Murphy was wanted by Hartford Police on eight active arrest warrants related to multiple domestic violence incidents that occurred on January 16th and Jan. 24, 2013," said HPD Sergeant Glendaly Garcia, Supervisor of the department's Domestic Violence Unit. "As a result of the swift and safe response of the HPD's Patrol Division, Murphy will no longer pose a threat to his victims who feared for their safety."
Police say Murphy is scheduled to appear in Hartford Superior Court on Monday.
Anyone with information on the continuing investigation is asked to contact Hartford Police.
Copyright 2013 WFSB (Meredith Corporation). All rights reserved.