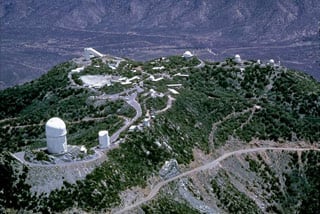 Kitt Peak
TUCSON, AZ (AP) -
Federal funding for a massive telescope atop Kitt Peak in southern Arizona is set to end Dec. 31 but efforts are under way to find a way to keep it operational.
The National Science Foundation's division of astronomical sciences announced last year that it intends to stop supporting the McMath-Pierce solar telescope and its other telescopes on Kitt Peak.
The Arizona Daily Star reports that McMath-Pierce is the first Kitt Peak instruction to face a deadline.
The Tucson-based National Solar Observatory plans a Thursday workshop on the telescope's future.
Astronomer Mark Penn of the observatory says the telescope's instruments and lab space might interest people in the optics industry and others.
The observatory's headquarters will move to Boulder, CO, in 2016.
Copyright 2013 Associated Press. All rights reserved.