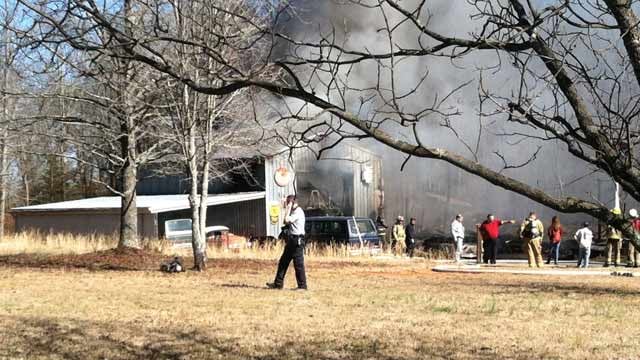 The structure on Studebaker Road in Chesnee smolders. (Feb. 6, 2013/FOX Carolina)
CHESNEE, SC (FOX Carolina) -
A Chesnee property owner said 50 Studebaker cars were lost in a blaze Wednesday afternoon.

Cherokee County dispatchers said firefighters were battling a blaze in the Chesnee area Wednesday afternoon. The fire was reported as fully-involved at a garage on Studebaker Road in Cherokee County, dispatchers said.
The property owner said he lost the Studebakers along with 20 motorcycles and a camper while working on a Volvo. He said he went inside for a minute and the catalytic converter set the grass on fire. He tried to put the fire out with a garden hose, to no avail. He said no one was injured.

FOX Carolina crews said firefighters from Chesnee, Cherokee Creek, Gaffney and Cliffside were assisting at the scene and having to bring in water tankers to fight the fire.

There is no word yet what sparked the blaze.
Copyright 2013 FOX Carolina (Meredith Corporation). All rights reserved.