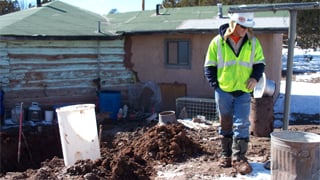 SRP has helped about 70 homeowners since crew's arrival on Feb. 8. (Source: Salt River Project)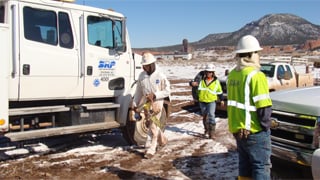 SRP's two four-man water crews are in Window Rock. (Source: Salt River Project)
FARMINGTON, NM (AP/CBS5) -
Repairs have restored water to about two-thirds of the more than 3,000 Navajo Nation residents whose pipes cracked during a January freeze.

Deputy General Manager Rex Kontz of the Navajo Tribal Utility Authority says new reports of pipe breaks are tapering off.
Salt River Project said it has helped about 70 homeowners since crews arrived on Feb. 8. Work has included replacing lines to houses and thawing out meters.
"Some people have been without water for one to two months and they are real nice to us," SRP Supervisor Dale Persons said.
Persons said they've made significant progress and that his crews may be finished with their assignment by Sunday rather than the two weeks or more they were anticipating.
Many of the pipelines are as much as 50 years old, SRP said.
The Daily Times of Farmington reports that more than 1,000 homes still lack water.
Along with the many homes that were affected, businesses such as restaurants and hair salons had to close temporarily because they either lacked water or the pressure was too low.

Copyright 2013 Associated Press. All rights reserved. CBS 5 (KPHO Broadcasting Corporation) contributed to this report.