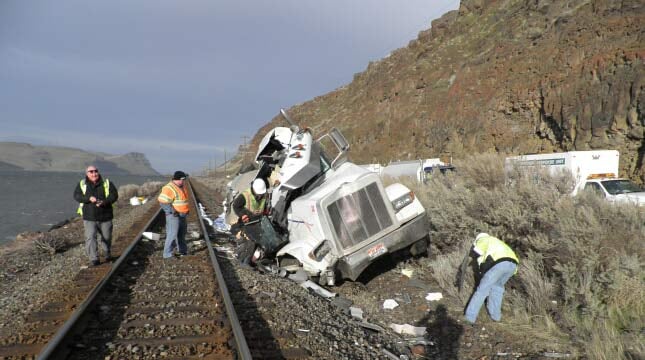 Photo: Oregon State Police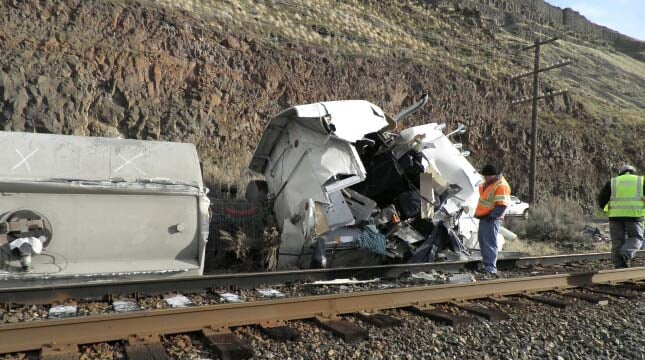 Photo: Oregon State Police
HERMISTON, OR (KPTV) -
A truck transporting jet fuel crashed off an Oregon highway, overturned onto railroad tracks and was later hit by a train Monday.

The crash happened off Highway 730 south of the Oregon-Washington border around 6 a.m.

Richard James, a 72-year-old man from Texas, was driving the truck, which had 10,000 gallons of jet fuel in its cargo tankers, when it traveled off the road.

The truck and trailers went down an embankment and ended up on their side, with the truck itself coming to rest on railroad tracks.

James was able to get out of the truck on his own and paramedics later took him to Good Shepherd Hospital in Hermiston to be treated for minor injuries.

The first train to approach the crash scene stopped and avoided hitting the semi, but a second train didn't and slammed into the overturned truck and one of the trailers.

There was no explosion, but state police said there was major damage to the truck.

Hermiston firefighters, a Hazmat team, ODOT and Union Pacific Railroad crews all responded to help state police. The highway was blocked for about eight hours.
Copyright 2013 KPTV-KPDX Broadcasting Corporation. All rights reserved.