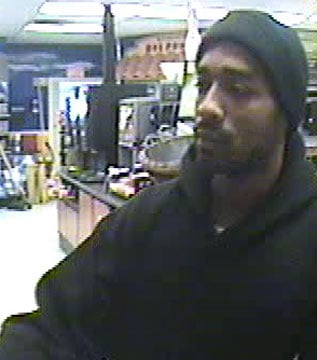 Phoenix police said this man is a suspect in an armed robbery of a Phoenix Circle K store. (Source: Phoenix Police Department)
PHOENIX (CBS5) -
Phoenix police are looking for a man they said robbed a Circle K store in Phoenix at gunpoint.
The suspect went to the store at 5879 W. Van Buren St. about 10:30 p.m. Feb. 25, walked directly to the clerk, showed a handgun and demanded money. The clerk complied and the man ran from the store on foot. The clerk was not injured.
Police said store surveillance video shows the suspect in detail.
He is described as black, 25 to 30 years old, 5'5" tall, 180 pounds, with a goatee and wearing a black beanie and black hoodie sweatshirt.
Anyone with information is asked to call Silent Witness at 480 W-I-T-N-E-S-S (480-948-6377), or toll free at 1-800-343-TIPS.
Copyright 2013 CBS 5 (KPHO Broadcasting Corporation). All rights reserved.