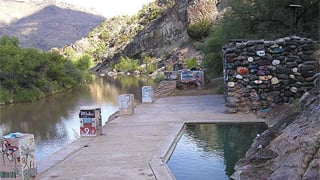 Area of the rescue along the Verde River
PRESCOTT, AZ (CBS5) -
Three hikers were rescued early Tuesday morning after they were swept down the Verde River and left stranded for two days, the Yavapai County Sheriff's Office said.
Deputies learned the group, two men, ages 18 and 21, and an 18-year-old woman, had arrived at about 5 p.m. Saturday and tried crossing the Verde River to access the hot springs.
The strong current swept them 250 yards down the river. The group was eventually able to swim across, climb onto land and spend the night in the hot springs to stay warm.
The group had left their cell phones in a vehicle parked on the opposite side of the river, so they couldn't reach out for help. They also had no food or water with them.
On Tuesday, a couple in the area of the Child's Power Plant campground called YCSO to report hearing cries for help. The YCSO Forest Patrol mobilized five members of the Yavapai County Sheriff's Response Team, which is certified in swift water rescue.
The team began staging in the area by 6:30 p.m. Personnel employed technical rescue procedures and worked until 2 a.m. the next morning bringing the group, one at a time, across the Verde River to safety.
Copyright 2013 CBS 5 (KPHO Broadcasting Corporation). All rights reserved.