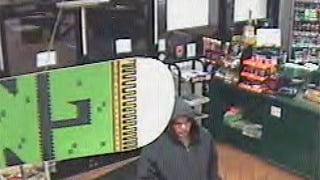 Surveillance image of suspect. (Source: Flagstaff Police Department)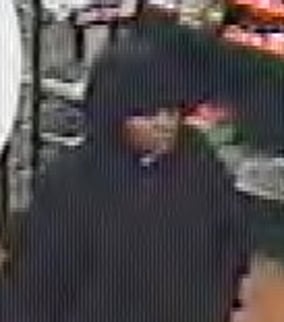 The robbery occurred at Conoco on South Milton Road. (Source: Flagstaff Police Department)
FLAGSTAFF, AZ (CBS5) -
Flagstaff police are searching for two suspects considered armed and dangerous in the wake of a holdup at a Conoco gas station.
The two robbers, described as being 16 or 17 years old, entered the gas station on South Milton Road together about 5:50 a.m. on Wednesday.
One of the suspects, wearing a gray hooded sweatshirt and black pants with a white stripe, brandished a black handgun. He put the weapon up to the clerk's neck and told him to open the cash drawer.
The second suspect, described as wearing a black hooded sweatshirt, jeans and white shoes, then walked around to the cash register and removed an undetermined amount of money.
Both suspects left on foot. People with any information are requested to contact the Flagstaff Police Department at 928-774-1414 or Detective Todd Martinet at 928-679-4081.
Copyright 2013 CBS 5 (KPHO Broadcasting Corporation). All rights reserved.