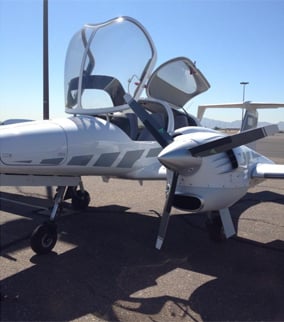 Diamond DA 42MPP aircraft
GLENDALE, AZ (CBS5) -
It's an airplane that can double as a drone. Law enforcement in several countries are using the Diamond DA 42MPP to secure their borders.
This week, Diamond Aircraft showcased their technology at the Border Security Expo in downtown Phoenix.
Pilot Martin Scherrer said from the air the plane can hardly be detected.
"At 3,000 feet you can't hear it from the ground," said Scherrer.
There's a good chance you won't see it, either. The belly of the aircraft is covered with a special paint that makes it hard to detect in the air. The aircraft's exhaust pipes are on the tops of the wings which mean it can't be tracked with infrared seeking devices.
Scherrer said the aircraft can be outfitted with different types of radar, sensors and high-tech cameras. It can also be operated from the ground without a pilot in the cockpit.
But possibly the biggest difference between this aircraft and others is how much it costs to fly. Pilots can stay in the air for up to 12 hours before they have to refuel. All total it costs around $130 an hour.
An aircraft specifically equipped for border patrol missions goes for about $2.5 million.
Copyright 2013 CBS 5 (KPHO Broadcasting Corporation). All rights reserved.