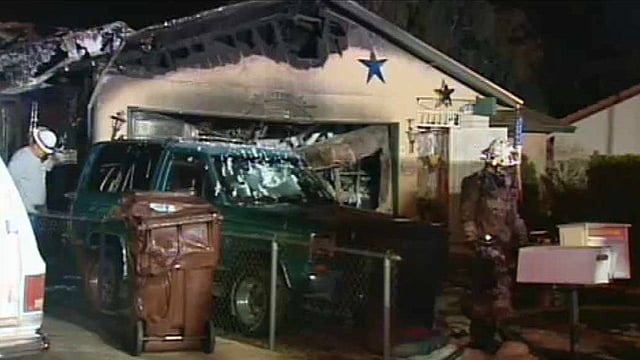 Firefighters said a mother, father and their child got out safely before the fire grew in intensity and destroyed this Peoria home. (Source: CBS 5 News)
PEORIA, AZ (CBS5) -
A family was slightly shaken and suffered minor smoke inhalation after an aggressive fire destroyed the majority of their house in Peoria late Thursday night.
Firefighters said a mother, father and their child got out safely before the fire grew in intensity, according to a Peoria Fire Department spokesman.
Rick Picard of Peoria Fire said the flames were so intense they to spread to a neighbor's house.
Picard said the residents were awakened by the sound of the spreading fire, a loud noise they described as sounding like a 747 jet aircraft.
He said the house near 67th and Olive avenues was almost fully involved when firefighters arrived, and as they battled the blaze, the roof began to cave in on them, forcing them to take their firefighting efforts to the exterior. Picard said firefighters were able to save three animals before the roof caved.
He said there was heavy damage to the portion of the house where the heavy utilities come into the home, and the garage and two vehicles inside were destroyed.
The flames caused extensive damage to the attic of a house next door, Picard said.
Fire inspectors told CBS 5 News that neither home was livable and that power had been cut off to both houses. No cause of the fire had been determined.
Copyright 2013 CBS 5 (KPHO Broadcasting Corporation). All rights reserved.