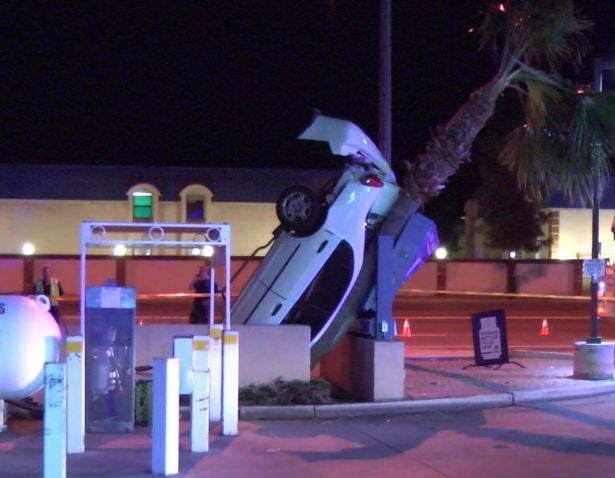 PHOENIX (CBS5) -
Authorities in Mesa say a man may have been trying to intentionally hurt himself when he rammed his car into a tree Friday night.
Mesa police spokesman Tony Landato said officers responded to the single-vehicle wreck at Horne and McKellips around 10:25 p.m. and found a Honda Accord standing on its front grill, leaning up against a palm tree in front of a gas station.
Landato said the 29-year-old driver was spotted by arriving officers as he tried to run from the scene. They quickly caught up with him.
Investigators think the car was westbound on McKellips when it went airborne and hit the tree near the corner of Horne.
Landato said the driver told police that he wanted to hurt himself and wrecked his car intentionally.
There were no signs of alcohol involvement but there were signs of possible drugs in the car, said Landato.
The driver remains at the hospital for his injuries and "danger to self" issues. He faces possible charges of endangerment, criminal damage, and DUI, said Landato.
Copyright 2013 CBS 5 (KPHO Broadcasting Corporation). All rights reserved.