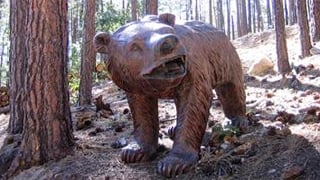 The bear statue is worth $2,500. (Source: Yavapai County Sheriff's Office)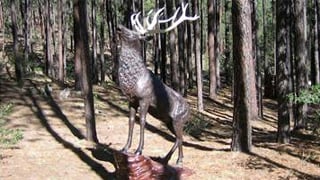 The elk statue is worth $3,000. (Source: Yavapai County Sheriff's Office)
PRESCOTT, AZ (CBS5) -
Authorities in Prescott have found two large metal yard statues - one depicting a bear and the other an elk - worth more than $5,500 that were missing.
A man called the Yavapai County Sheriff's Office Tuesday after seeing reports of the stolen statues to inform them he had in fact taken them, in what appears to be a misunderstanding.
The man told YCSO that 8 years ago he had sold the piece of property on the 2000 block of Heavenwood to a new owner with an understanding that when he bought a nearby piece of property he would return for the large elk and bear statues.
The man never bought that nearby property, and a new owner took over the property on Heavenwood.
The man told YCSO that he recently decided he wanted his statues of the elk and bear back so he went and got them and brought them to Phoenix. He told deputies that he left a note for the current property owner on his door, which was not found until now.
Due to the trouble caused by the owner taking the statues he is planning on returning them back to the current homeowner.
An apology was made by the man to the homeowner for all of the misunderstanding. No charges will be filed against the man, according to YCSO.

Copyright 2013 CBS 5 (KPHO Broadcasting Corporation). All rights reserved.