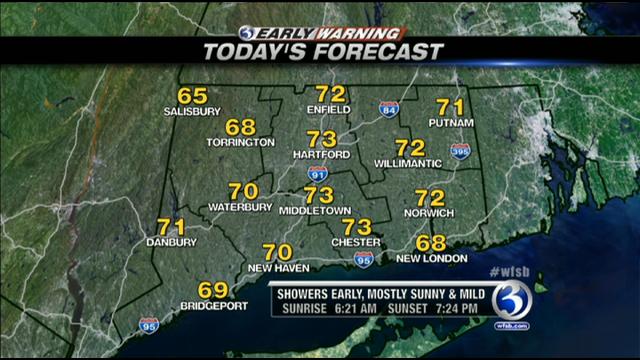 ROCKY HILL, CT (WFSB) -
We're all trying to forget Blizzard Charlotte - the storm that dropped up to 40 inches of snow in some areas of Connecticut in February. Tuesday afternoon's temperatures will really help us accomplish that.
Monday's weather was the warmest of the year and Tuesday is expected to be even warmer with temperatures that could reach into the mid-70s in several areas.
Finally.
Channel 3 Early Warning Weather Meteorologist Scot Haney said temperatures reached well into the 60s to near 70 in many parts of the state. The official high at Bradley International Airport in Windsor Locks was 68 degrees.
The average high for April 8 is 57.
Tuesday and Wednesday will be even warmer with highs in the low to mid 70s both days.
But the summer-like feel will only be short lived as a cooling trend will begin on Thursday, and the lower temperatures will come with a higher probability of rain, which is something the state really needs, Haney said.
A few showers and thunderstorms are possible Wednesday and Thursday as a front will stall near southern New England. However, Haney said, the best chance for a significant rainfall will come late Thursday night and into Friday morning.
Copyright 2013 WFSB (Meredith Corporation). All rights reserved.