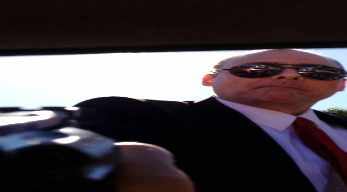 The victim, Ryan Hall, told police had a feeling something bad was going to happen. (Source: Tempe Police Department)
TEMPE, AZ (CBS5) -
The video is only four seconds but that was long enough to capture a Tempe criminal defense attorney on a mission to allegedly execute a man in the parking lot of his law firm.
Ryan Hall told police he had a feeling something bad was going to happen. So when he saw 48-year-old Joseph Palmisano walking toward him, he grabbed his smartphone and started recording.
Seconds later, he had a gun in his face. It was so close he could clearly make out the bullets in the cylinder.
The video stopped just before Palmisano opened fire.
A woman called 911 saying, "We heard one shot. He was by this vehicle and the driver's door was open and he kept looking towards the ground and just walking around the vehicle."
Investigators say the mother of Hall's son is a secretary in Palmisano's law office. She and the attorney had started dating. Palmisano admitted to police he planned to confront Hall when Hall stopped by the office to talk to his ex about their child.
Palmisano is charged with aggravated assault and kidnapping. Hall is recovering from a gunshot to the back.
[Related: Tempe PD: Criminal attorney arrested after shooting]
Copyright 2013 CBS 5 (KPHO Broadcasting Corporation). All rights reserved.