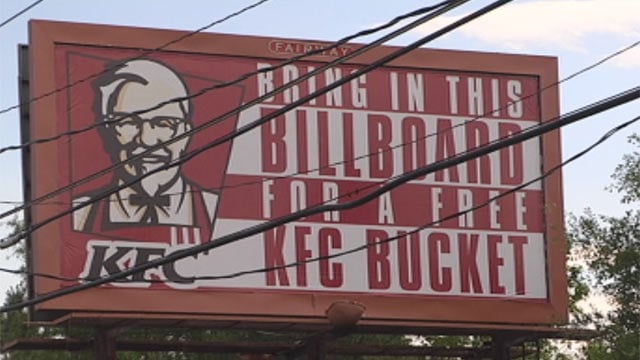 The billboard advertising for a Moonville KFC along U.S. 25 in Greenville County. (May 9, 2013/FOX Carolina)
MOONVILLE, SC (FOX CAROLINA) -
"Bring in this billboard for a free KFC bucket." It's a serious ad campaign by a KFC in the Upstate, and it has a lot of customers craving some hot and crispy chicken.

The billboard is located in Greenville County on Highway 25 close to Interstate 185.
Many people wanted the free chicken, so they took pictures of the billboard and brought it to the shop. They were turned down and told that it was just an advertising campaign.
A KFC corporate spokesman said the franchise put the sign up a couple months ago, and that it's been positively received. He said most people realize it's a joke and that they, "understand that it's a tongue and cheek way to break through the advertising clutter."
Greenville lawyer Grant Varner said it may be disappointing to customers, but it's not false advertising.
"If the billboard itself is the coupon, and Kentucky Fried Chicken is in fact willing to honor the coupon, then it's completely legal," said Varner.
The franchise actually did have the opportunity to honor the larger-than-life coupon when it blew down from a storm and an Upstate couple brought it in. The restaurant did give the couple their 12-piece bucket of chicken.
Copyright 2013 FOX Carolina (Meredith Corporation). All rights reserved.