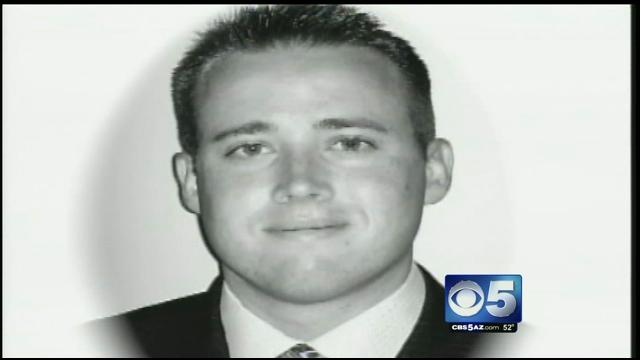 Travis Alexander
PHOENIX (CBS5) -
As the family of Travis Alexander awaits a retrial in the penalty phase of their brother's murder, they're honoring him on the five-year anniversary of his death.
Last month, a jury found his ex-girlfriend, Jodi Arias, guilty of first-degree murder in his death. The jury could not decide on whether Arias should spend life in prison or be executed, so the judge declared a mistrial. A new jury is expected to be selected next month to begin the penalty phase of the trial again.
Arias originally told police she did not know what happened to Travis Alexander on June 4, 2008 when he was murdered in his Mesa home. She later told police that two intruders had killed him while she was in the home. She then told authorities that she killed him in self-defense, but the jury did not believe her story and found her guilty of first-degree murder on May 8.
Travis Alexander's brother, Steven Alexander, who testified in front of the jury during the sentencing phase of the trial, posted this statement on the Facebook page set up in his brother's honor.
"June 4th will forever be a dark reminder of who has been ripped from our lives. June 4th will always be the day we stop and think this is the day Travis was murdered. You will think about all the horrible pain and suffering he went through. That day will always come."

"I believe with every ounce of my being that June 4th will be an everyday reminder to her. A reminder of why she sees the inside of a cell for 23hrs a day. A reminder of what she did. All alone, every day, a living hell. Until she gets the ultimate freedom, the needle. I hope its many years before that happens."

"Soon June 4th will be a day that we remember she is on death row. Watching the hour glass until the last grain of sand. I hope her last thought is of Travis and June 4th."

"Until then we have to take a look at our loved ones and remind ourselves that tomorrow is a gift. It's never too late to love them more. Hold them close. Cherish every moment. Remember tomorrow is a gift."

"Justice for Travis Victor Alexander "The Great" has been delayed. It doesn't matter how long it takes. We all will be standing behind Travis, my big brother. Moving forward, passing down his legacy. You were born to be great, you are special! That is your destiny! Except nothing less! A pebble has been thrown into the pond. We are the ripples. Thank you for your love, your stories, your support and your prayers. June 4th is Justice for Travis Day!"
Copyright 2013 CBS 5 (KPHO Broadcasting Corporation). All rights reserved.