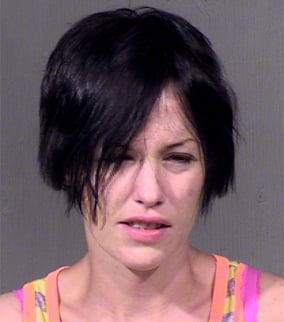 Jacqueline Trousdale (Source: Maricopa County Sheriff's Office)
TOLLESON, AZ (CBS5) -
A Phoenix mom was arrested Sunday on suspicion of injecting her 5-year-old daughter with methamphetamine and amphetamine, Tolleson police said.
Jacqueline Trousdale, 30, was booked into the Fourth Avenue Jail after a crime lab report showed a urine sample collected from the victim came back positive.
The case dates back to Oct. 14, 2012, when accusations of child abuse and molestation drew Tolleson police to the Victory Inn Hotel at 1580 N. 84th Dr.
Police said the girl's father had confronted Trousdale about her alleged drug use and that the children had told him their mother was injecting them with a drug and then allowing men to molest them inside the hotel room, according to a court document.
Child Protective Services said case workers had been looking for Trousdale's two children for a while and there had been several ongoing investigations into the family.

CPS was notified. An agent from Childhelp Advocacy Center took a urine sample from the younger child. An exam revealed there were no signs of sexual assault or molestation. CPS took custody of the child after the examination concluded. It wasn't clear from the court document what happened to the 6-year-old child in connection with the case.
Earlier this week, when the exam came back positive, Tolleson police located Trousdale. She was booked on one count of child abuse, one count of endangering the life and health of a minor and one count of theft. Police said she had removed screws from a light in her holding cell.
Copyright 2013 CBS 5 (KPHO Broadcasting Corporation). All rights reserved.