Mesa Mayor Scott Smith sworn in as 71st president of the U.S. Conference of Mayors. (Source: City of Mesa)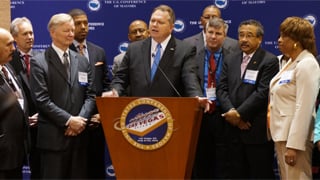 Mesa Mayor Scott Smith. (Source: City of Mesa):
LAS VEGAS (CBS5) -
Mesa Mayor Scott Smith was sworn in Monday as 71st President of the U.S. Conference of Mayors.
Smith was appointed head of the nonpartisan organization during the 81st Annual Meeting of the USCM Mayors in Las Vegas. [Related: Read his full inaugural address]
As conference president, Smith will set the organization's agenda, appoint committee and task force chairs and serve as the national spokesman for the June 2013 to June 2014 term.
"I will work hard to focus on the issues we have in common, the issues that define not Republicans or Democrats, easterners or southerners, liberal or conservative, but issues that define cities," Smith said.
Smith said cities have a unique message for Washington and the nation.
"We have a voice that should be heard, that must be heard," Smith said. "Cities are not just another group. We are the drivers of the U.S. economy, the home of most Americans, the innovators and creators, the future of our nation."
Smith served as vice president of the organization over the past year and represented the organization at the Republican Convention in Tampa, FL.
Copyright 2013 CBS 5 (KPHO Broadcasting Corporation). All rights reserved.