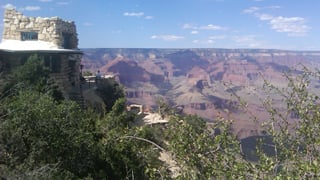 GRAND CANYON NATIONAL PARK, AZ (CBS5) -
Fire restrictions for the entire Grand Canyon National Park, except the Colorado River corridor, went into effect Wednesday.
Extreme fire conditions on both rims of the Grand Canyon have forced officials to ban all wood burning and charcoal fires, including campfires, warming fires and charcoal barbecues. The ban is effective throughout the park, including all campgrounds and residential areas.
The ban is expected to be in place until there is enough precipitation that allows the fire danger warnings to drop.
Visitors of all public lands need to be aware of the extreme fire danger warnings and should be extra careful. Park officials said there are a few precautions you can take while visiting the public lands, including:
Before going hiking or camping, check the fire restrictions and closures for that area.

If you are a smoker, smoke only on paved surfaces or in an enclosed vehicle. Never toss the cigarette butts on the ground, instead use an ashtray or pack the butts out in your pocket.
If you are using a portable stove, make sure to clear the area of grasses or other fine fuels and be careful to prevent the stove from tipping over.
If you are driving on unpaved roads, be careful of parking or driving your vehicle in tall, dry vegetation. Hot vehicles can start a fire.
If you see smoke or a fire, you should note the location and report it to authorities. You should not attempt to put the fire out yourself.
For the latest fire information in the Grand Canyon National Park, visit http://www.nps.gov/grca/parkmgmt/fire_info.htm. Visitors can also call the Southwest Area Fire Restriction Information Line at 877-864-6985 or visit http://wildlandfire.az.gov for fire restrictions across Arizona or New Mexico.
Copyright2013 CBS 5 (KPHO Broadcasting Corporation). All rights reserved.