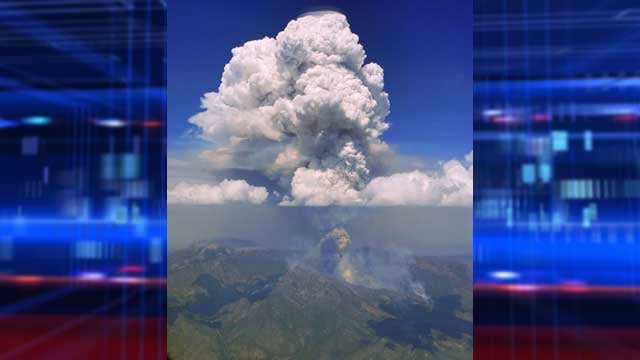 A plume of smoke rises from Mt. Charleston in the midst of the Carpenter 1 wildfire. (Source: Mike Lubiarz)
LAS VEGAS (FOX5) -
The American Red Cross set up two shelters in Pahrump and Las Vegas as a wildfire threatens homes at Mt. Charleston.
The Red Cross announced the shelters at the following locations:
James Bilbray Elementary School, 9370 Brent Lane, near N. Fort Apache Road, Las Vegas;
Hafen Elementary School, 7120 S. Hafen Ranch Rd., Pahrump.
The Red Cross mentioned the centers provide overnight shelter as well as meals and relief for those affected by mandatory evacuations in the Carpenter 1 fire.
An evacuation was ordered Thursday after the fire had spread beyond 2,000 acres. As of Friday, the fire remained 0 percent contained.
Stay tuned to FOX5 for the latest on this developing story.
Copyright 2013 KVVU (KVVU Broadcasting Corporation). All rights reserved.