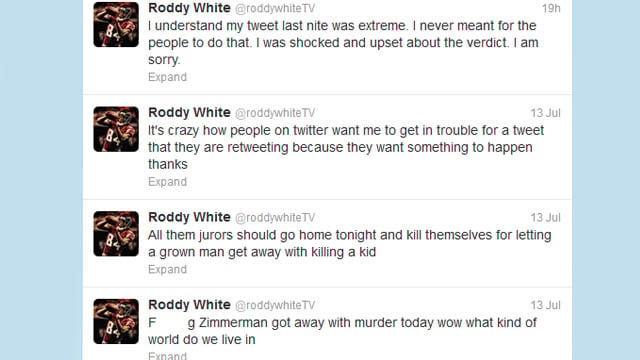 ATLANTA (CBS46) -
Atlanta Falcons wide receiver Roddy White took to Twitter on Saturday night after a jury found George Zimmerman not guilty, and he expressed a very strong opinion.
The tweet read, "All them jurors should go home tonight and kill themselves for letting a grown man get away with killing a kid."
Sunday morning, White sent out another tweet, apologizing for his earlier tweet.
"I understand my tweet last nite was extreme. I never meant for the people to do that. I was shocked and upset about the verdict. I am sorry."
Do you think White should be held accountable for the tweet or is it just free speech? Sound off on our Twitter page.

Copyright 2013 WGCL-TV (Meredith Corporation). All rights reserved.