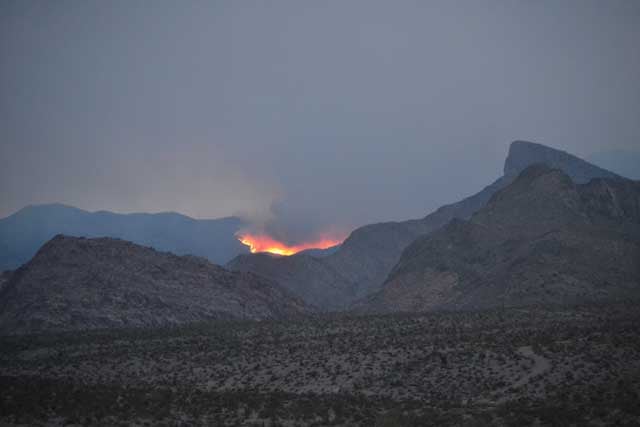 The Carpenter 1 wildfire on Mt. Charleston is 70 percent contained as of July 15. (Aaron Leifheit)
LAS VEGAS (FOX5) -
As containment of the Carpenter 1 fire on Mount Charleston has reached 70 percent and residents are slowly being allowed to return to their homes, Valley businesses are doing what they can to lift their spirits.
Station Casinos on Tuesday will host a pizza and bowling party for children evacuated from the fire.
The party is set for 3:45 p.m. until 4:45 p.m. at Sante Fe Bowling Center inside Santa Fe Station, 4949 N. Rancho Dr. in Las Vegas.
Families displaced by the fire are invited to come out to Flip N Out in North Las Vegas for a day of fun.
The facility, located on Craig Road just west of Interstate 15, includes a 10,000-square-foot trampoline arena, jump area for smaller kids, laser tag, climbing wall, arcade, food and beverages.
Displaced families are welcome to an hour of free jump time, one game of laser tag and a climb up the wall. For more information, call 702-257-3547 or visit www.flipnoutfun.com.
Copyright 2013 KVVU (KVVU Broadcasting Corporation). All rights reserved.