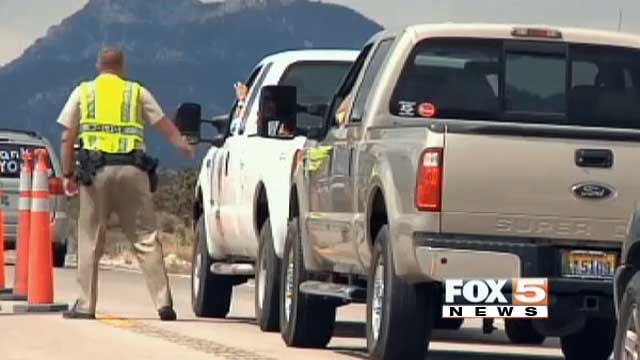 Carpenter 1 evacuees pass through a checkpoint July 14, 2013, during their return home. (FOX5)
MT. CHARLESTON, NV (FOX5) -
Residents of Kyle Canyon, business owners and key employees will be allowed to return to the area beginning on Wednesday at 10 a.m.
Those residents were evacuated on July 4 when the Carpenter 1 fire began threatening the east side of Mount Charleston.
Clark County said those returning to Kyle Canyon will pass through a checkpoint on Kyle Canyon Road near Scottie Road. The checkpoint will be staffed by Metro police, NHP troopers and others.
Residents will need to provide proof of residency, which can include a driver's license or utility bill.
Employees will only be allowed in Kyle Canyon if their names have been provided to Metro police by their employers.
Access to State Route 158 remains forbidden and non-residents are still prohibited from accessing both the Kyle and Lee canyon areas.
Approximately 400 people call Kyle Canyon home.
Copyright 2013 KVVU (KVVU Broadcasting Corporation). All rights reserved.