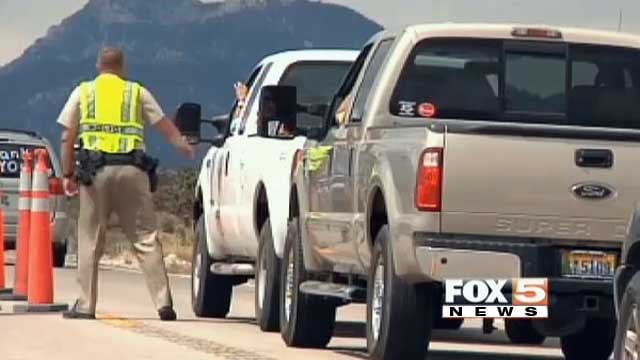 Carpenter 1 evacuees pass through a checkpoint July 14, 2013, during their return home. (FOX5)
MT. CHARLESON (FOX5) -
Residents and business owners were allowed to return to Kyle Canyon on Wednesday after the Carpenter 1 fire forced them from Mount Charleston on July 4.
Beginning at 8 a.m. on Friday, the canyon will open to the public.
Fire managers and police, however, are reminding visitors that the weather forecast for this weekend calls for thunderstorms in the area.
That presents the possibility of flash flooding, which could be exacerbated by burned areas on steep mountain sides. Visitors should keep an eye on the weather and are reminded to seek high ground in heavy rains.
While the Carpenter 1 fire is currently 95 percent contained, fire remains and trails in those active areas are closed.
More than 90 percent of the Spring Mountains National Recreation Area was not burned and trails there will be open.
Lee Canyon will open to the public on Friday at 8 a.m. as well.
Copyright 2013 KVVU (KVVU Broadcasting Corporation). All rights reserved.