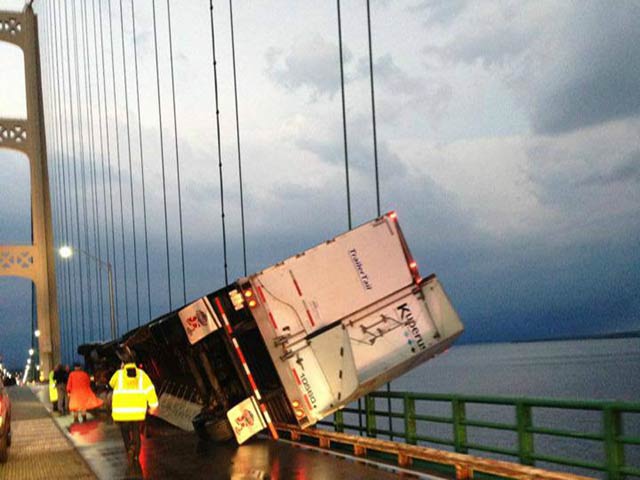 Photo courtesy of Teresa Ann Heise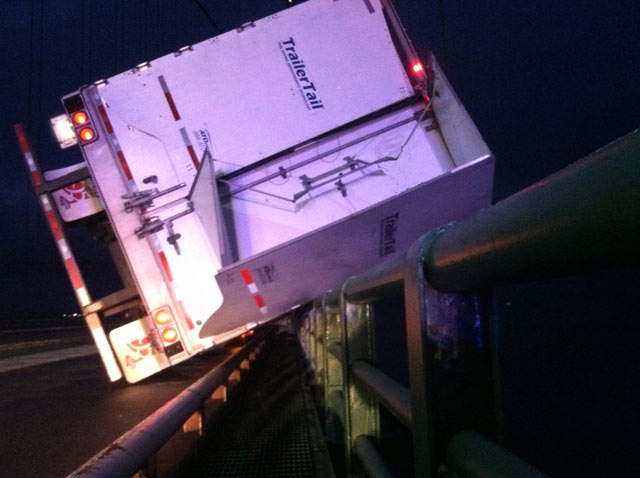 This photo is courtesy of the Michigan Department of Transportation.
MACKINAW CITY, MI (WNEM) -
WNEM has received word that the Mackinac Bridge was temporarily closed due to severe weather.
The bridge was shut down at around 10:30 p.m. Thursday evening after a semi-truck blew over onto it's side on the bridge.
The bridge reopened to traffic around 12:40 a.m. Friday morning. A fast moving weather front blew through around 9 p.m. Thursday evening with winds blowing steadily in the upper 20 mph range, and gusting up to 40 mph.
The truck nearly plummeted off of the bridge Thursday evening after a wind gust of79 miles per hour struck the semi. The driver of the truck did not sustain any injuries.
TV5 Facebook friend Teresa Ann Heise posted this picture, showing the truck nearly falling over the side of the bridge.
Strong winds are also expected in the area Friday.
Copyright 2013 WNEM (Meredith Corporation). All rights reserved.