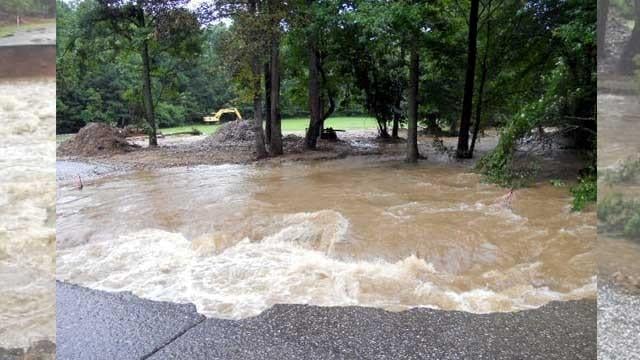 ELLIJAY, GA (CBS46) -
For the second time in less than a week, residents in north Georgia were forced to evacuate their homes and businesses because of rising water levels in creeks and streams. In one case, residents in Gilmer County were stranded in their neighborhood when the only road in or out collapsed.
For the residents of the Clear Creek Acres community, it's a familiar story. Their main road washed out on Aug. 1 in the midst of heavy rain and a rising, rushing creek. Wednesday morning, the temporary road they'd built washed out as the creek again rose following heavy rain.
"We're pretty much going to be stranded until this water goes down enough," said Bruce Channell. "It's very frustrating because you never know at this point in time whether you can get in or out."
The main road to the neighborhood is a private road, and is not maintained by the county. Emergency responders said they had a plan in place to help people in the subdivision should they have an urgent crisis.
Elsewhere, the Build an Ark rescue ranch for farm animals in Ellijay had to evacuate due to the threat of a nearby creek flooding. Volunteers there said that with all the recent rain, any further precipitation would likely lead to a serious flooding situation, because the ground is so saturated.
"With more rain, it's going to rise right back up again," said volunteer Dennis Patterson. "We've already had to move several animals from the low side."
Copyright 2013 WGCL-TV (Meredith Corporation). All rights reserved.