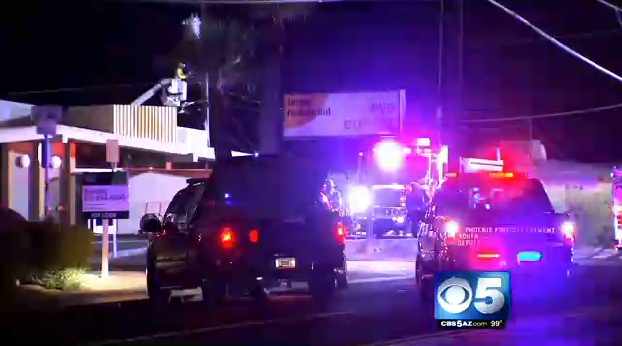 (Source: CBS 5 News)
PHOENIX (CBS5) -
Firefighters responded to a fire at a restaurant in North Phoenix just after 8:00 p.m. Sunday night.
Officials say the Eye Opener Restaurant near 7th Avenue and Hatcher was closed when flames broke out in the kitchen.
A passerby called 911 reporting black smoke coming from the roof.
Moments after the first crew arrived the decision was made to call in additional units for help.
"There was smoke coming from the eves. Firefighters were able to break the door go into the interior. The interior was completely full of smoke, down to the ground. They navigated their way through that and made their way into the kitchen where they found a large fire that was spreading and were able to knock it down," said Phoenix Fire Department Captain Jonathan Jacobs.
Jacobs told CBS 5 there was no one inside the restaurant. The business closed for the day earlier in the afternoon.
Investigators are still working to determine what caused the fire.
Copyright 2013 CBS 5 (KPHO Broadcasting Corporation). All rights reserved.