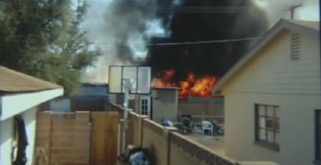 A neighbor caught this photo of the blaze. (Source: CBS 5 News)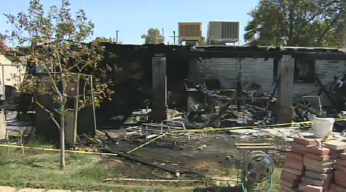 The fire gutted the home at 4608 N. 30 Dr. in Phoenix. (Source: CBS 5 News)
PHOENIX (CBS5) -
Five people, including three children, barely made it out of their burning home safely in a fast-moving fire on Sunday, firefighters said.
Fire crews had to contend with live electric wires, a car fire, a shed fire and even a burning gas meter in an attempt to gain the upper hand of the blaze at 4608 N. 30 Dr.
The fire started in a bedroom and then quickly spread.
"Based on the fire we had, this looks like it was a very close call," said Capt. Ruben Saavedra of the Phoenix Fire Department.
"Speaking with the occupants, they said they had a significant amount of smoke and were coughing on their way out, so the thing we encourage is if you see smoke, get outside immediately," Saavedra said. " Don't go back inside for any type of possessions or anything like that."
No one was hurt in the fire.
Investigators are trying to determine how the blaze started.
Copyright 2013 CBS 5 (KPHO Broadcasting Corporation). All rights reserved.