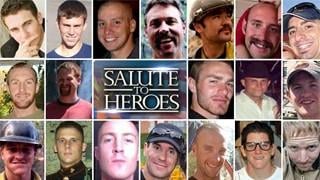 CAMP VERDE, AZ (AP) -
Widows and other family members of several of the 19 firefighters killed June 30 in the Yarnell Hill Fire are asking a judge to deny two media organizations' requests for access to more records.
A Yavapai County Superior Court judge in Camp Verde on Wednesday held a hearing on a lawsuit filed on behalf of The Arizona Republic and KPNX-TV.
The media organizations are requesting photos from the fire scene and investigative records but not photos of human remains or of personal effects.
Media attorney David Bodney said release of the requested records would allow the public to assess the performance of public officials, but three firefighters' widows testified that releasing more records would be intrusive.
The hearing will continue in November.
Copyright 2013 Associated Press. All rights reserved.