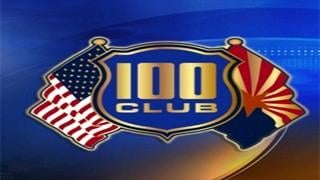 PHOENIX (CBS5) -
The 100 Club of Arizona has dispersed more than $2.2 million from the Survivors Fund for the families of the 19 Granite Mountain Hotshots killed in the Yarnell Hill Fire on June 30.
All money donated in memory of the Granite Mountain Hotshots will only be used to meet the needs of those affected by the tragedy, the club said in an announcement Monday.
None of the funds will be used to support the 100 Club of Arizona's general fund or for administrative costs, the club said.
In the past six months, the 100 Club of Arizona has continued to assist and help the grief stricken community recover by dispersing the money "provided by the generous donations received from the community."
The 100 Club of Arizona released the following breakdown of how the $2,228,430.47 in donations have been used as of Dec. 18:
$333,500 - immediate financial assistance within the first few days of the tragedy
$164,324.60 - funeral expenses
$65,314.34 - memorial services
$19,559.36 - medical benefits for dependents
$45,357.79 - counseling service
$87,790.49 - support service to the families and Incident Command staff
$1,210,163.07 - debt elimination payments
$134,613.74 - survivor living expenses, three months following the tragedy
$167,807.08 - travel expenses
Funds are still being dispersed daily to the survivors and the 100 Club said it will continue to assess their needs as they continue to heal.
Currently, the 100 Club of Arizona said it is providing approximately $21,000 a month for dependent healthcare and living expenses.
In addition, education assistance is available to spouses and children of the fallen.
Copyright 2013 CBS 5 (KPHO Broadcasting Corporation). All rights reserved.