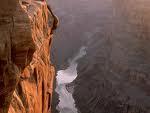 FLAGSTAFF, AZ (AP) -
Grand Canyon National Park is reducing fees for air tour operators that use technology to quiet the sound of aircraft.
The new $20 fee per flight takes effect Jan. 1 for any of eight operators that take visitors to see the massive gorge by air. Operators that don't have quiet technology will continue to pay $25 per flight.
Grand Canyon spokeswoman Maureen Oltrogge says the new fee will save the industry $250,000 a year at full conversion.
The National Park Service and the Federal Aviation Administration had been required to come up with incentives for quiet technology aircraft as part of a law passed in 2012.
Hikers and tourists on the ground have complained that the aircraft noise interferes with the feeling of solitude and appreciation of nature.
Copyright 2014 Associated Press. All rights reserved.